Get a Cheap Divorce
in New York

File an uncontested divorce without a lawyer

We have helped over 10,000 people

as of today, May 19, 2019

Complete Divorce Forms Preparation Service

Our Low Fee:

Only

$

99

Attorney Approved Program
Court Approved NY Divorce Forms
Marital Settlement Agreement
Easy to Follow Instructions
Divorce With or Without Children
Instant Delivery of Completed Forms
Get a Quick Divorce - Save Time and Money!
Complete Your New York Divorce Forms Online

Fast Low-Cost Uncontested Divorce in New York

Plus much more!

| | |
| --- | --- |
| | Gerald Bruckner, Esq. |

Gerald Bruckner is a divorce attorney with over 20 years experience. He developed and founded LetsGetDivorced.com to provide an easy, low-cost online divorce process to file a simple uncontested divorce without hiring an attorney.

Easy 3 Step Divorce Process
See If You Qualify For Our New York
Online Divorce Forms Service

Create an Account and Complete the Simple Online Divorce Questionnaire
File Your Divorce Documents

Customer Support by Phone and Email:


Our friendly uncontested divorce specialists are here to help you every step of the process.
Start your uncontested New York divorce online today, and you are on your way to getting a quick cheap divorce!

We service all New York State Counties: New York City (NYC) (Manhattan, Brooklyn, Queens, Staten Island, the Bronx) and Long Island (Nassau County, Suffolk County), Westchester and Upstate New York.
Complete Your Uncontested Divorce Papers Online
File For Divorce As Soon As Today!
LetsGetDivorced.com
Makes Online Uncontested Divorce Cheap, Quick and Easy
LetsGetDivorced.com was founded by New York Divorce Attorney Gerald Bruckner.
LetsGetDivorced.com is a registered New York State company that provides a top-notch low cost NY divorce papers service for people who want to get a quick cheap divorce and file a simple no-fault uncontested divorce in New York State without hiring an Attorney.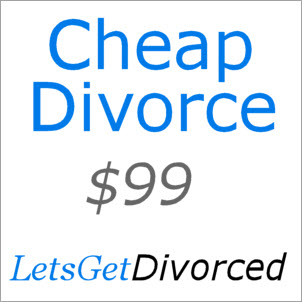 Our simple and inexpensive online divorce process provides you with completed no-fault divorce papers for filing in New York in about 30 minutes.
Your divorce documents are instantly available after you complete our short online questionnaire. No waiting for documents to be mailed to you for review.
Your New York uncontested divorce papers are customized with your particular divorce details. Follow the instructions to print, sign and file with the court.
We provide our complete online divorce forms preparation service for the very affordable low price of only $99.
What is "Online Divorce"?
Attorney Provided Online Divorce:
The divorce forms are prepared in an Attorney's office - not online.

In order to file for an uncontested divorce in New York, you need to have all of the required divorce forms filled out correctly. One way to do this, is to hire a New York Attorney who will prepare your divorce forms by using information you provide to the Attorney when you meet with the Attorney in their office.

Some New York divorce Attorneys advertise that they provide cheap divorces and "Online Divorce" and have a website where a customer can enter some basic information about their divorce that is emailed to the Attorney for their review. If the customer decides to hire the Attorney to prepare their divorce papers, they provide the remainder of their information about their divorce to the Attorney via email, an online questionnaire, or by visiting the Attorney's office.

When the Attorney has all of the information about the case, the Attorney creates the divorce forms and fills them out with the customer's information. The customer then reviews the divorce forms by either traveling to the Attorney's office, or by having them mailed, or emailed to them. If any corrections are necessary to the divorce forms, the Attorney makes them and the customer reviews them again.. and again ... as needed, until they are ready to be filed.

Thus, when an Attorney advertises that they provide "Online Divorce" the bulk of the effort is performed by the Attorney "in their office" to create the divorce forms and complete them, and the customer has to spend considerable time waiting to have the divorce forms mailed to them for review, or they need to spend time to travel to the Attorney's office to provide information about their case, and to review the divorce forms.

Also, many Attorneys have divorce paralegals in their office who type and prepare the divorce papers for their clients. In addition to Attorney provided divorce online, there are also cheap paralegal services that provide divorce help and type up uncontested divorce papers for their customers and provide them to their customers online, by mail or in person.

How to get a quick and cheap online divorce?

Use LetsGetDivorced.com:
The divorce forms are completed online and are immediately available to the customer.

LetsGetDivorced.com has developed a 100% online divorce forms preparation service that allows people who are thinking about filing a no-fault uncontested divorce in New York State, to complete their own divorce papers without an Attorney in about 15 minutes for a simple case without minor children. If there are minor children involved it just takes a little longer to enter all of the information into their online uncontested divorce questionnaire.

By using LetsGetDivorced.com to prepare their own New York State divorce papers, the customer's divorce forms are "instantly" created online. This eliminates having to spend time to travel to an Attorney's office to provide information and review documents, and also eliminates having to spend time to wait for divorce paperwork to be mailed to them from an Attorney's office for their review. Also, if any changes need to be made (e.g., a word was misspelled), the customer can instantly make the change online and the applicable forms will be instantly updated.

Although the New York Court system does not provide the ability to file for divorce online, if someone is thinking of filing a simple no-fault uncontested divorce in New York State, and they do not want to pay an Attorney's legal fee to have their divorce papers prepared, then using LetsGetDivorced.com for only $99 might be exactly the type of online uncontested divorce forms service that they are looking for.
What is an Uncontested Divorce?
There are two types of divorces: "Uncontested" and "Contested."

Uncontested Divorce

To get a fast, easy and low cost divorce, filing an "Uncontested Divorce" is a great divorce option.

When a divorce is filed and granted in New York State as an "Uncontested Divorce" it means that the parties to the divorce (the husband and wife, or both spouses in a same-sex marriage), have signed their applicable divorce papers that were filed in court, to indicate that they both agree to all of the terms of their divorce, including: the equitable division of their joint marital property (assets and debts) and the payment or waiver of spousal support.

Also, if there are minor children of their marriage they must both agree on the terms of the custody, visitation and child support.

When both spouses agree to all of the terms of their divorce, and both of them sign the divorce papers, this type of uncontested divorce is commonly referred to as an "amicable divorce" (amicable means friendly).

In an amicable uncontested divorce (friendly divorce), both spouses work together to obtain their divorce. Another common name for this type of divorce is a "collaborative divorce."

Contested Divorce

When both spouses do not agree on the terms of their divorce, and they fight their divorce out in court, that type of divorce is referred to as a "Contested" Divorce.
How much does a divorce cost in New York?
Court costs for an uncontested divorce in New York:
The New York State Court filing fees are $335.
The breakdown of the $335 is: $210 for the Index Number, and ($125 for the Note of Issue and Request for Judicial Intervention).
If the plaintiff is granted a "Poor Person" waiver by the Court they will not have to pay the filing fees.
A Certified copy of the Judgment of Divorce is approximately $4 - $10 (varies by county).
One of the most common questions that people have when they are think about "filing for divorce" or "getting divorced" in New York, is: "how much does it cost to get an uncontested divorce in New York State?"



LetsGetDivorced.com charges a 1x Flat Service Fee of only $99 to use our online service to complete your New York Uncontested No-Fault Divorce Forms.



We do not charge anything extra whether your divorce includes minor children, equitable distribution of your joint marital property or a request for payment of spousal support, and we provide a comprehensive marital settlement agreement. Our $99 service fee does not include the Court's filing fees. You pay the Court's filing fees directly to the Court.
LetsGetDivorced.com

$99

Service Fee
100% Satisfaction Guarantee.
Included
Complete your online divorce papers in about 15 minutes by answering simple questions in our online questionnaire.
Included
All Court required uncontested divorce forms.
Included
Unlimited customer support by phone and email.
Included
No-Fault divorce with or without minor children
(child custody, visitation and child support).
Included
Marital settlement agreement.
Included
Equitable distribution of marital property.
Included
Spousal name change provision to resume the use of their former name.
Included
Unlimited instant revisions.
Included
Instant delivery of completed divorce forms
via download or email (or optionally by mail).
Included
LetsGetDivorced.com In The News:
Article about LetsGetDivorced.com posted on AlleyWatch.com
AlleyWatch.com published an article about LetsGetDivorced.com and its Founder, Attorney Gerald Bruckner.
The article is entitled: Here's a Great NYC Startup to Help You Get Divorced: No Contest. It covers how LetsGetDivorced.com simplifies the divorce process and dramtically lowers the cost to file a simple uncontested divorce.
Read the full article here.
Interview of Attorney Gerald Bruckner, the Founder of LetsGetDivorced.com posted on TheNativeSociety.com
TheNativeSociety.com published its interview of Attorney Gerald Bruckner, the Founder of LetsGetDivorced.com
Read the full interview here.